Raven Rex (Small View)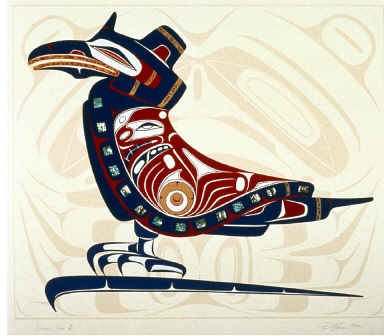 Raven Rex is a large five-color image with 14 pieces of actual hand-cut iridescent abalone shell appliqué. It portrays a particularly splendid Raven, the principle culture hero of the Northwest Coast Indians, standing before a classic flat frontal formline chest design of a second Raven figure reminiscent of the box that Raven is said to have stolen the sun from. Within the Raven image itself is a compact formline version of Raven as a half-human half-Raven figure holding a golden sun image.
Raven Chief is a small lithographed version of the larger Raven Rex, with simulated abalone shell images.
5 colors, printed on Archival Off-White Stock
Item #s: 500a, 500b
Raven Rex
96 in edition
36" x 32.5"
Item #500a
$1,150
(plus $10 shipping in the USA)
Raven Chief
500 in edition
13" x 12"
Item #500b
$35
(plus $5 shipping in the USA)
Quantity:
Unless otherwise noted, all images and text are:
© 2009 Chief Seattle Arts
Last modified: November 09, 2014